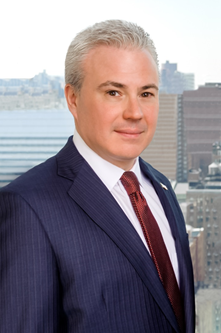 "A victorious army wins its victories before seeking battle; an army destined for defeat fights in the hope of winning."                                                    ~ Sun Tzu ~
Frank Winston, a partner in the New York City law firm of Lerner, Arnold & Winston (LAW), specializes in first party insurance litigation, personal injury (including labor law matters, medical malpractice, motor vehicle matters, premises liability and toxic torts), construction litigation and commercial litigation.
He has twenty years of experience representing insurance policyholders in matters against commercial, fire, disability and life insurance carriers. Frank's expertise in these multiple specialties of law has evolved into a hybrid practice area focusing on the needs of insurance and personal injury claimants.  Frank has successfully represented victims of accidents involving construction, motor vehicle, medical malpractice and premises liability. His tenacity and precision for detailed fact-finding has made him a formidable adversary at trial.  During the course of his career, Frank has recovered millions of dollars of proceeds on behalf of his clients.  Two of his most notable achievements include a mediated settlement of a property damage claim, in excess of $2 million, arising from adjacent construction and a jury verdict in a medical malpractice action where the Plaintiffs were awarded over $2.5 million in damages.
As a resident of Monmouth County, New Jersey, Frank has first-hand knowledge of the devastation caused by Superstorm Sandy in October 2012.  He has provided pro-bono services to homeowners in the area who have suffered extensive property damage; guiding them through the arduous claims process.  His vast knowledge and experience regarding property insurance coverage issues makes him a highly-sought after speaker on these topics.
Quality family time with his wife and 2 young daughters is the highlight of time spent away from the office.

Education:
New York Law School; New York, New York; Juris Doctor, 1993
SUNY Albany; Albany, New York; B.A., Political Science, 1989
Bar Admissions
New York State Bar, 1994
New Jersey State Bar, 2004
Pennsylvania State Bar, 2012
U.S. District Court, Middle District of Pennsylvania, 2014
U.S. District Court, District of New Jersey, 2004
U.S. District Court, Eastern District of New York, 1997
U.S. District Court, Southern District of New York, 1994
Practice/Specialty Areas
First-party property insurance coverage actions
Disability insurance actions
Declaratory judgment actions involving general liability insurance policies
Property damage actions arising from negligence and adjacent construction
Personal injury actions arising from construction, motor vehicle, medical malpractice and premises liability
Publications/Speaking Engagements
New York State Trial Lawyers Association (NYSTLA)
Handling Superstorm Sandy Flood Claims, November 2012
New Jersey Attorneys for Justice
Handling Superstorm Sandy Flood Claims, November 2012
Proving Wind Damage in Superstorm Sandy Claims, Meadowlands Seminar, April 2013
Harris Martin Superstorm Sandy Conference, New York City, June 2013
Finding Coverage for Superstorm Sandy Claims – A Primer for the Policyholder's Attorney
Organizations/Affiliations
New York State Trial Lawyers Association
New Jersey Association for Justice (NJAJ)
Monmouth County Lawyers Association