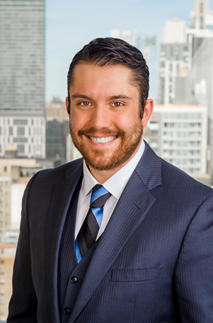 Jesse Michael James Roehling began his law career in 2009 as an intern with Lerner, Arnold & Winston, LLP (LAW) while still attending New York Law School.   He is now a full-time Associate focusing on personal injury and first-party insurance litigation.  Jesse works diligently with his clients in order to ensure that they are placed in the most advantageous position possible for a successful outcome of their claim.
His attention to detail during the discovery process is instrumental in developing his clients' files, submitting well-written and fact-specific motion papers, conducting depositions and preparing for settlement negotiations, arbitrations, mediations and trial.  Jesse is a firm believer in the "walk before you run" approach while handling a case and his experience with LAW has fully prepared him to confidently represent his clients in the courtroom and at the conference table.
Jesse is an avid sports enthusiast and a long-term New York Yankees season-ticket holder.  He looks forward to attending one of their games in every ballpark across the country!  Jesse played football throughout his college career at Allegheny College in Pennsylvania.  Now, he maintains his athletic skills on the local softball field and at the New York Sports Club where he has shown that hard work and diligence pay off – in 2013 Jesse met his weightlifting goal of joining the 1,000 Pound Club.  His athletic goal for 2014 is to run in and complete the New York City Marathon.
Education:
New York Law School; New York, New York; Juris Doctor, 2012
Allegheny College; Meadville, Pennsylvania; B.A., Political Science, 2009
Bar Admissions
New York State Bar, April 2013
New Jersey State Bar, January 2013
Practice/Specialty Areas
First-Party Insurance Claims
Personal Injury
Premises Liability
Automobile Accidents
Organizations/Affiliations
New York City Bar Association
New York State Bar Association
New York Road Runners